Mac & Sons brings some of the top experts for your Plumbing and HVAC service needs.  Whatever plumbing or heating project you have, we can help.  You want that new sink in the bathroom?  We can install it.  Do you need a garage heater to keep your work space comfortable? We can do that too.  Your furnace isn't working properly?  We are ready to fix it anytime, 24/7.  Call Mac & Sons if you want the job done right.  Click below to learn more about our services.
We will install, repair, maintain, or replace your plumbing.  Our experience will save you time and money!
Our experienced HVAC technicians are ready to help you with your residential heating, ventilation, and air conditioning.
When disaster strikes, don't panic, just call us.  Our technicians are ready to serve you whenever you need.
When you call Mac & Sons for your Plumbing and HVAC needs, you can expect nothing but the best.  Our Certified Journeyman plumbers, expert gasfitters, and HVAC professionals will be punctual, polite, knowledgeable, and capable.  We will leave your home in pristine condition, every time.
As a family business, we understand the meaning and value your home has for you and yours.  You can trust us to care for your home just as well as we do for ours.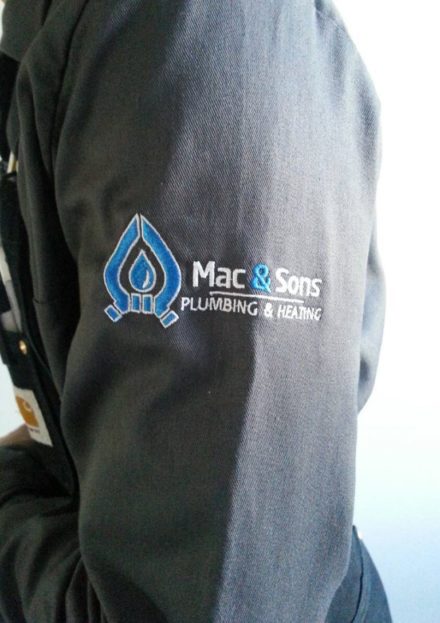 Desperate to resolve a furnace issue over the Christmas holidays we gave Mac and sons a call. Despite the original contractor being unable to remedy the issue (vent freezing up) Matt was able to explain the cause (common design flaw with this particular furnace) quote the repairs and fix the issue in less then few hours. I highly reccomend Mac and sons for your plumbing and mechanical needs.

Brandon Lloyd
October 8, 2018

We can't recommend this company highly enough. It is a tough market to find trustworthy service AND someone who makes themselves available when you need them. (and all plumbing issues seem emergent right?)

Mac & Sons has provided quick, efficient service and they don't push parts or other items you don't need. Our family is SO appreciative of their expertise and we tell everyone we know about it. 🙂

Carmen Nokleby
July 19, 2020

Matt from Mac & Sons came right away to fix a broken pipe under my mobile home. Not easy to find someone willing to work on mobile homes. Despite the fact that I'm a woman with trust issues, Matt's calm, confident demeanour put me right at ease. He did the welding I needed, plus used my extra insulation to re-wrap the pipe, so it wouldn't freeze in the cold. He knows what he's doing. He's fair, efficient, and a decent human being. Rates are reasonable and the quality of his work is worth every penny charged. I have already recommended him to several friends and family, with complete confidence.

Brigitte April
May 1, 2017

Matt was nothing short of amazing. He was competitively priced, came out for multiple visits, answered questions on email, text and more plus worked with us for different payment methods. He didn't call it a job done until my wife and I were satisfied. 5 stars and highly recommend! Thanks Matt we will be spreading the good word about you!

Trystan Meyers
December 2, 2020

Very happy with your work on my bathroom reno. Very few plumbers will work on smaller jobs in an older home--Mac will.
I hate renos and I hate change but Mac's expert advise made it a lot easier.
Professional, competent, neat and patient all describe my experience with Mac--even the cats liked him.
I can highly recommend him--he is the only plumber i will ever call.

Patricia York
September 16, 2016

I am very careful in choosing professionals and it is very easy for me to tell you that Mac & Sons has been my go-to plumber for five years now.

It doesn't matter if I call on Monday morning or Sunday afternoon (and I have), Mac & Sons has always
been there to take care of my problems. Water leaks, water softener problems, dishwasher installs, bathroom installs, iced up lines, they have fixed them all for us.

I depend on them and, I was not surprised to learn, my neighbors depend on them.

Don't look any further, call Mac & Sons and let this team make your problems go away. 👍👍

Darrell Wingerak
January 29, 2020

Great customer service. On time followed up with quality workmanship. We will absolutely be using their services again.

Randy Cancade
May 13, 2017

Very satisfied with the prompt service. Matt looked at my water heater just before noon and was working on it by 2:00! Made sure everything was good before he left, even looked at the furnace...great!! I didn't even have to clean up!! Prompt, courteous, free accurate estimates and good rates!! That's what we all want. Would definitely recommend!!

Sharon Burant
February 19, 2015

My wife was the one around when they showed up to our house, but she said they were very helpful, well priced, and very clean. Would definitely recommend, and would be happy to have them do work again!

Jordan Hafichuk
July 10, 2018

I'm not one to leave reviews but Mac & Sons definitely deserve a positive one! Matt took a same-day call out to Prince Albert when my furnace died while my home was quickly getting cold! He worked late until the furnace was running again. The other shops in Prince Albert itself couldn't be bothered to take, or even return, a call. Great job Mac & Sons and thanks again Matt!

Gerald Lara
December 9, 2016

Has been dealing with our terrible furnace for years. Great prices, always quick to help. Very friendly service, highly recommend!

Emily Danielle
February 17, 2021

Thank you for bringing the heat back so quickly on a - 33 day.

Gordon Wiebe
January 16, 2020